Grays Harbor County Washington (Class A) BFRO
July 2004
On July 29th,2004 my mother,aunt, and I were leaving the Lake Quinault Lodge after having lunch there. We decided to take the shortcut between Neilton and the Lake Quinault park turnoff to go towards the ocean at Moclips. About a mile from the Quinault fish hatchery we all saw something none of us believed in. It was very tall, dark brown hair, walked on two legs like a man but resembled a gorilla, (sort of). This was at about 2:30 in the afternoon, no rain, clear day with sunshine. It crossed the road a few hundred feet in front of my pick-up. When it crossed, it didn't seem to be in any hurry, glanced breifly our way and continued as if we were unimportant. It's stride was such that it easily stepped from the road back into the brush without losing any momentum. I stepped on the gas to try to get a better look as this thing was moving fairly good clip but didn't seem to be running but just moving right along. I would say it was approximately 8' tall. I say this as I am almost six feet tall and this thing towered over my truck. This was NOT some guy in a suit, as the area is fairly isolated and not many cars go down this road. In fact, we only saw two more cars on that road until we reached the ocean turnoff. It was also not a bear, or at least no bear I have ever seen to walk like this did. It was also hunched over somewhat or didn't have any neck but gave me the impression of being hunched forward somewhat. It was not scruffy or dull colored hair but appeared to be healthy especially the way the thing moved.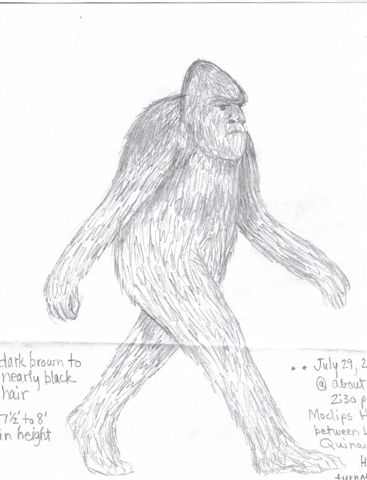 View Full Report and Investigation
Discuss report
That's just like mine and my step dads encounter years ago in Nemah Washington. It was daylight..nice clear day..only our encounter was much closer and the animal stood in the middle of the gravel road and turned his upper body to look right at us. He looked angry or upset for sure is all I can remember of the face expression. The nose was flat and the thing was about 8 to 9 feet tall...my step dads guess...i was only 14 or so...but I remember the long arms and long reddish brown hair. The arms hung down to the knees. It was slightly hunched at the shoulder area. When he came onto the road directly in front of us it was from an extremely deep embankment at a run. When it stopped to look at us..he only paused for a moment as I guess we startled each other. He took off with a few giant strides and quickly leapt over a about 10 feet of shallow creak water without touching the edges and without much effort. He moved so fast the hair was a blur and he was gone up the hillside within a few seconds. Totally scary...a few episodes after that and I am convinced they are everywhere and keep well hidden for the most part avoiding people.
---
---
---
---
---
---
---
---
Got a sighting to report?