Yakima County Washington (Class B) BFRO
2018
My friend and I rode snowmobiles about 8 miles into a wilderness area. No one had been in the are for at least 2 days because previous tracks were covered by Saturdays storm. We turned off the main road and onto a side road and rode a few hundred feet before we stopped at a bridge crossing a stream. As soon as we took off our helmets we heard a loud howl/moan sound that lasted 8-10 seconds. We looked at each other in shock. Another howl followed about 8 seconds behind it and then we head a loud bang on a tree in the opposite direction. It was like a super loud woodpecker just pecked once. A few seconds after we heard a large tree branch break in the direction of the howl and then heard a third howl. Two more loud wood pecker sounds then followed with about 5 seconds in between. The scream seemed like it was from a mile away, but in the dense trees it was likely much closer. The wood noises and loud break sounded like they were within 50 yards or so. Then it was silent for about 5 minutes and we started to get ready to leave and the howls started again, but seemed like they were twice as far away. After about 6 more howls with 5 seconds or so in between, we decided to leave the area. Neither of us have ever heard anything like it. It seemed like it had an amplifier and we were the only people within about a 8 mile radius. I listened to the "Ohio howl" and it was close but longer and more fluctuation in some of the moans.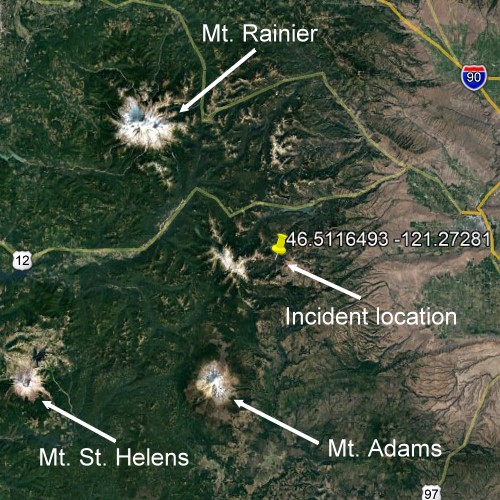 View Full Report and Investigation
Discuss report
Robert Parker
154 days ago
Were these animals screaming for you to leave or telling you get the heck out of there it's our area,we have young close by?They start giving you the old tree knocks bungle in the jungle type communication.Old George of the Jungle type warning get out of Dodge Holmes.
---
Ive heard this in oak creek canyon...AB young trail to lookout tower...scared the shit out of me..happened last year this time...have not been back since...sounded like bigfoot to me
---
---
---
---
---
---
---
---
Got a sighting to report?