Bonner County Idaho (Class A) BFRO
September 2017
My husband has been working "logging" in the Hellroaring Canyon on Pack river for the last two weeks. One day he texted me saying "this is the first day I don't feel alone up here. My husband and I are avid hunters and enjoy our mountain time. The next day I ended up going to work with him, later on we decide to go for a walk down an old dirt road that isn't accessed with a key to the gate. We came across what appears to be a large foot print my husband wears a size 12 and this print was a few inches bigger."i have a photo". We never seen or heard anything else that day. On September 22nd we decided to go bear hunting on the other side of the mountain, we also had a key for that gate we drove in 11 miles and to the left of me there's and old clear cut but saplings growing and must be at least 10/15 feet tall I see something black and standing tall and moving through these trees. I yell at my husband to stop and this black figure is gone. I cant find it anywhere.we continue driving no luck at all don't even see a deer we decide to turn around and go back in this same exact spot which is now on my husband's side he slams on the brakes and says what the hell is that give me the gun, I hand the gun and lean over him to see what he's looking at its a tall black figure with a head no ears very wide shoulders and couldn't see the bottom part there was a tree in the way he stares back and takes a step to the left behind a tree all this happened within 40 seconds or so he vanishes again. At this point I have tears in my eyes and scared to death my husband was sick to his stomach almost to the point of being sick we were both so confused on what just happened we started driving and about 400 yards up the road on his side again he seen something move at the corner of his eye he looked quickly and these branches on these trees about 7 feet high were moving right in a row like something very tall had just ran through pushing them out of its way. We are positive 100% positive this wasn't a bear or person we're convinced what we seen last night was, had to of been bigfoot..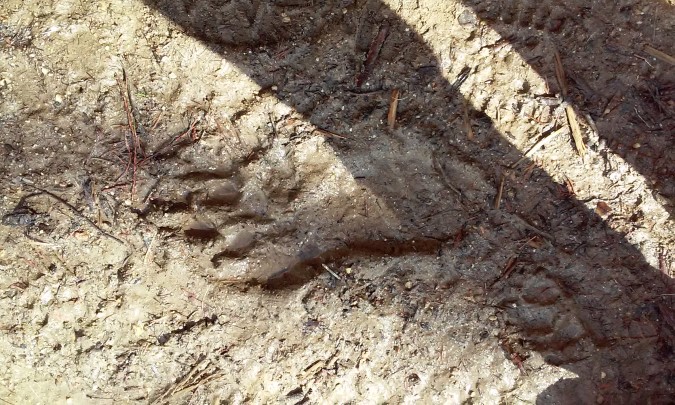 View Full Report and Investigation
Discuss report
Got a sighting to report?