Ross County Ohio (Class A) BFRO
July 1980
I remember the year well enough. It was in the summer of 1980. The reason I remember that so clearly, is because all of the talk that summer was about the eruption of Mt. Saint Helens. I'm not sure of the month of the sighting, but I know it was later in the summer, after the eruption. My father, cousin and I were wading Deer Creek fishing for smallmouth bass. We had waded up the creek approximately one mile or so, and we were heading back down the creek to the car. I had stepped out of the creek, for a few minutes, and my father and cousing were a little ways ahead of me. I stepped back into the creek, and headed down the creek towards them. We were keeping a pretty steady pace, with my father in front, my cousin second and myself in the rear. I remember my cousin asking me what the hell I had just stepped in because of a horrid smell that suddenly filled his nostrils. I laughed and said that I had stepped in some mud along the creek bank. "Mud doesn't smell like that" he replied, then I smelled what he was talking about and he was right. This smell was indescribable. The closest way I could hope to describe it would be to say that it smelled like a mixture of something that had been decaying in the sun covered in rotten eggs. It was after our brief conversation about the smell that I noticed my dad had stopped walking and was not fishing, but looking ahead concentrating on something along the left bank. "What the hell is that?" he asked, more to my cousin than to me. My cousin looked for a moment and replied, "A dead snag" meaning an old dead tree. I looked up the bank trying to see what my father was looking at. Just then I saw it. I too thought it was a tree, but as I looked at it closer I could see hair moving in the slight breeze along it's side and head. It was a reddish/brown color and not extremely long, but long enough that I could see it moving. The creature was standing amid some brush that was growing along the creek, and was visible from just above the waist to the top of it's head. It was very tall, my guess would be about 8 feet high or so. I was 12 at the time, and it was definetely the strangest thing I had ever seen. My father suddenly tensed up and in a very desperate voice, said something I won't repeat here, followed by "That's bigfoot!" Just then, whatever was standing on that bank turned it's head, and looked straight down the creek at us. We scrambled up the right hand bank as fast as we could and started out across the field to the car. To this day, my cousin still says he saw something but doesn't know what he saw. I didn't know what it was either, but to me it just looked like a very hairy, slightly stooped man, especially when it looked towards us. I do know one thing though. I'll never forget it.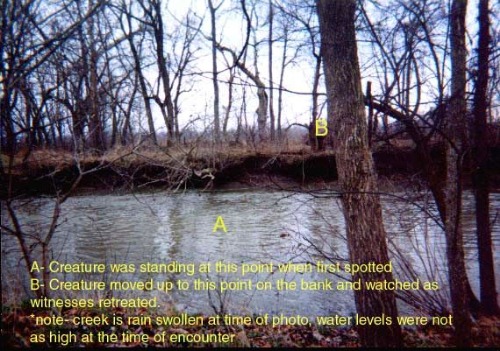 View Full Report and Investigation
Discuss report
Tom Whiteside
131 days ago
I had an encounter while camping in Pickaway Co. It was in a very close time frame. It was the fall of 1980. I remember it was after the eruption of Mt. St.Helens. Myself and 5 friends were camping close to the Big Darby river bottom. I was 14 years old at the time. The encounter lasted about 2hrs. Myself and 1 of the friends saw the Bigfoot beside a tree at about 30 feet. The Bigfoot tried to hide behind a tree. I had a bright flashlight on it. The Bigfoot turned and looked at us. The eye shine was red. We hustled back to the fire and tried to explain to the other 4 friends what we had just saw. We quickly built up the fire. And we were quickly being circled by the Bigfoot it crashing thru the woods. It seemed aggressive, it let out a very loud and deep beller. The entire area became saturated with a stench that to me smelled very much like a red fox,kind of skunky but very strong. The Bigfoot continued to circle and crash thru the brush and trees. This went on for a long time. We finally decided to walk out of the woods as a group. The Bigfoot paralleled us all the way out of the woods. It only stopped when we got to open farm fields. In about a week I will turn 53,I have never got over this. I work as a duly sworn law enforcement officer. I hope to see the day when people everywhere understand that Bigfoot does exist.
---
---
---
Got a sighting to report?